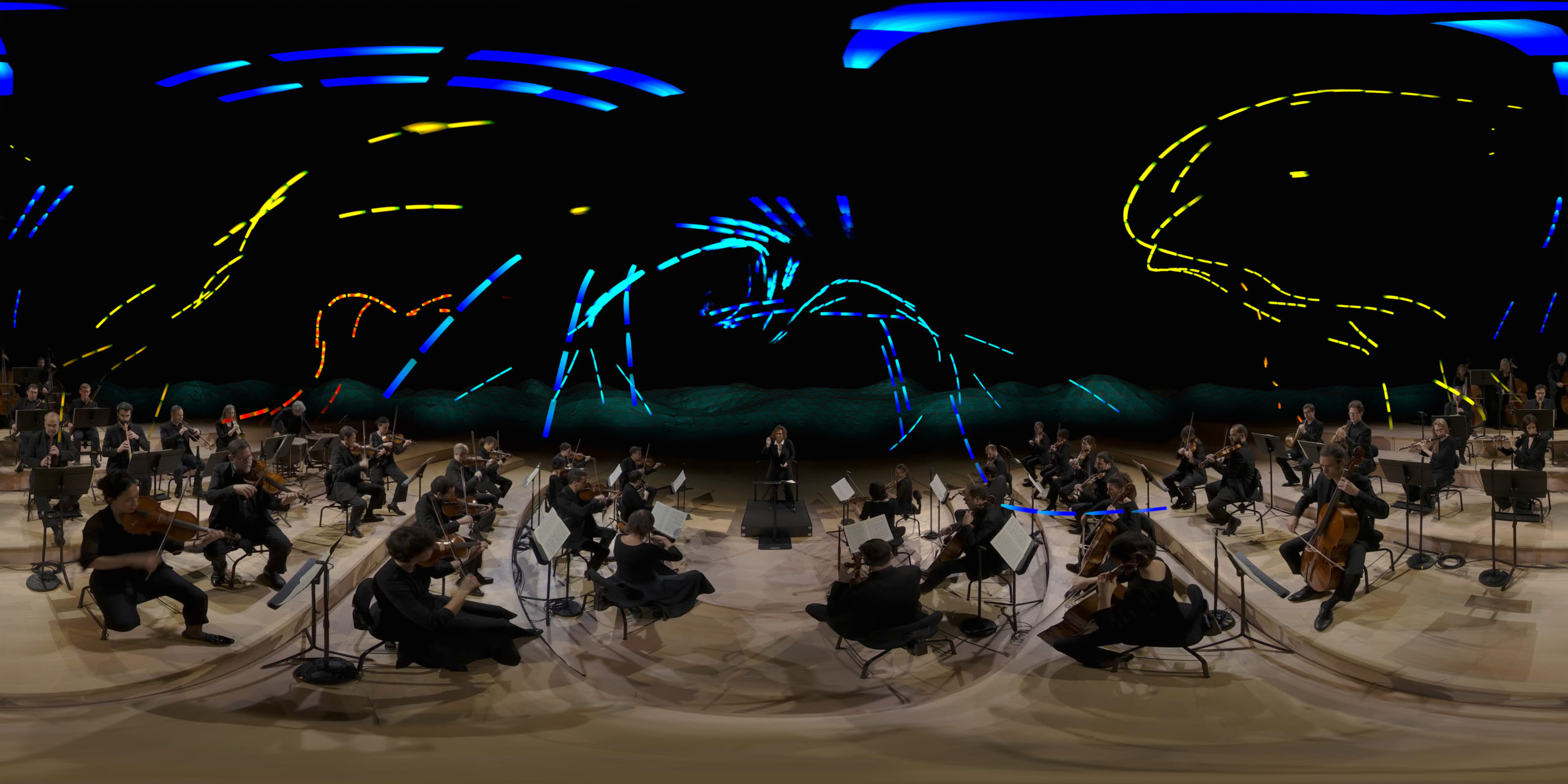 Beethoven 360
Description
After Mozart 360, ARTE and Insula Orchestra continue their exploration of classical music in 360° with the famous 1st movement of Beethoven's "Symphony No. 5." This excerpt is undoubtedly one of the most renowned pages in the classical repertoire, yet it still holds a sense of mystery… What does Beethoven tell us? Does he convey something else? And what does Laurence Equilbey intend to transmit through her own interpretation?
This new immersive experience takes us not only into the heart of the orchestra but especially into the vision held by the conductor, which depicts a struggle between an oppressed people and a form of tyranny. This deeply personal reading is embodied by a series of visual projections, born from this interpretation, and generated throughout the excerpt by all the musical parameters. Everything is encoded and takes shape before your eyes in the form of beams or walls: pitch, density, nuance, duration, attack… With Beethoven 360, the musical material becomes visible!
Technique
A 360° experience with spatialized sound and binaural audio, to be enjoyed with or without headphones.
For this project, we worked with an 8K stereoscopic 360° film shot using the Z CAM V1 Pro. After post-production, trimming, and exporting depth maps, we integrated this sequence into Unity. We also utilized a MIDI-scored composition synchronized with the orchestra.
We developed a program specifically for this occasion, which allowed us to visualize the project in real-time through a VR headset, enabling us to compose the post-FX part and see the results instantly. Additionally, we could export an 8K stereoscopic 360° film at a later time.
The Post-FX part consists of an audio-reactive terrain generator and a particle engine, with each particle linked to a note emanating from the initiating instrument, featuring specific parameters related to its pitch, length, and more. These two generators were developed using Compute Shader.
In addition to this generative and automated part, another section was directly written using Unity's timeline tool, with real-time visualization through a VR headset using the developed tool.
Credits
Orchestra - Insula Orchestra conducted by Laurence Equilbey
Director - Ivan Maucuit [Neotopy]
Writing - Blandine Berthelot, Ivan Maucuit [Neotopy]
Production - Camera Lucida
Co-production - Camera Lucida, Neotopy, Insula Orchestra
3D360 Post-production - Alexandre Regeffe [RShift]
Development & Post FX - Benjamin Petit and Corentin Limoge [LTBL]